Uniview proudly supports the ONVIF mission to provide and promote standardized interfaces for effective interoperability of IP-based physical security products. Founded in 2008 by Axis Communications, Bosch Security Systems, and Sony Corporation, ONVIF has a robust member base on six continents. ONVIF membership is open to manufacturers, software developers, consultants, system integrators, end users and other interest groups that wish to participate in ONVIF activities.
ONVIF Profile T
Profile T is designed for IP-based video systems. Profile T supports video streaming features such as the use of H.264 and H.265 encoding formats, imaging settings, and alarm events such as motion and tampering detection. Mandatory features for devices also include on screen display and metadata streaming, while mandatory features for clients also include PTZ control. Profile T also covers ONVIF specifications for HTTPS streaming, PTZ configuration, motion region configuration, digital inputs and relay outputs, and bidirectional audio for conformant devices and clients that support such features.
UNV Products Support Profile T
Uniview, a leading global video surveillance manufacturer, was one of the first to recognize and adopt these more open standards utilizing Profile T. UNV products passed through the tests using the ONVIF Profile T device test tool and obtained a Declaration of Conformance – Device (DoC – DEVICE). The DoC - DEVICE was verified by ONVIF client testing workgroup at the most recent conference verifying UNV products meet conformance specifications of ONVIF profile T. ONVIF Profile T has been officially published on 28th September. The test tools were released on the 5th of October. Due to the preparations Uniview did in advance, Uniview will upload all DoCs in the next few months. Users can check the conformance information at https://www.onvif.org/conformant-products/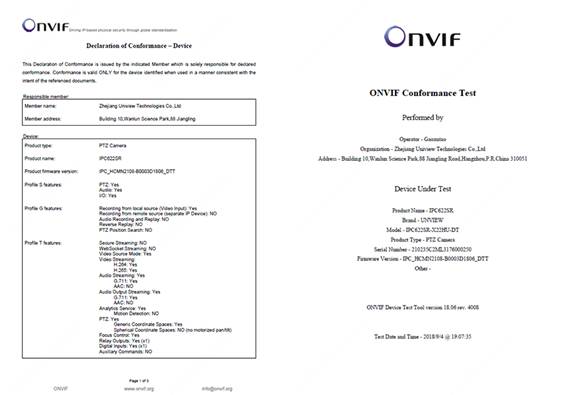 Uniview, as the 6th largest player in the global market of the video surveillance industry and the full member of ONVIF, makes every effort to conform to ONVIF standards, becoming more open and bringing more convenience to users worldwide.