On June 11, 2018, Uniview decided to build the new intelligent manufacturing base in Tongxiang city, and signed strategic cooperation agreement with the government and Economic Development Department of Tongxiang. Over 140 persons from the government, Uniview and relative departments attended the meeting. Uniview's new manufacturing base is located in the Economic Development Zone of Tongxiang, occupying 100,000sqm floor area and 70,000sqm construction area. Uniview, together with China Transinfo Company, plan to invest 156 million USD on the new manufacturing base. The new manufacturing base will be able to produce more than 10 million pieces of high end video surveillance products per year which value for over 1 billion USD.
Uniview will keep efficiency and high quality as basic standards when running the new base. And the new base will undertake the manufacturing of products which are selling all over the world, becoming a milestone for Uniview's future development. Meanwhile, it will also accelerates the development of electronic smart manufacturing industry in Tongxiang.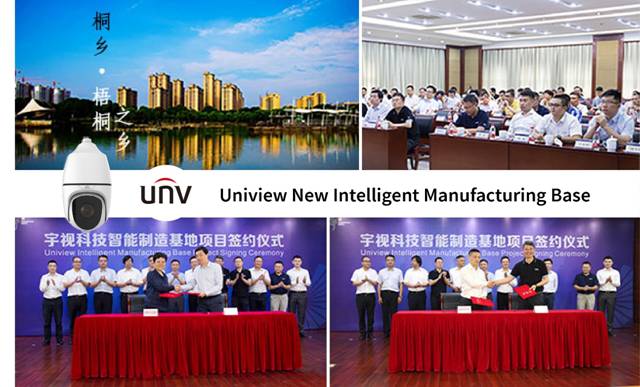 Sheng Yongjun, who is from Tongxiang's government, said: "Uniview is the leader in Chinese IP video surveillance industry, owns mature industry chain which covered hardware and software. Uniview will help us to make breakthrough on local electronic information industry."
"Strong execution ability and insisting on innovation are merits both exiting on Uniview and Tongxiang." said Hermit Zhang, CEO of Uniview, "The intelligent manufacturing base would greatly support Uniview to improve competitiveness. It is a milestone on our way to grow from No.7 to No.3 in the global market."
Since 2014, Uniview has been delivered video surveillance solution to World Internet Conference in Tongxiang for four years. Nowadays, Uniview is No.7 in global video surveillance market and delivered products and solutions to more than 140 countries. With the new manufacturing base, Uniview is ready to provide world-class products and solutions to global customers.